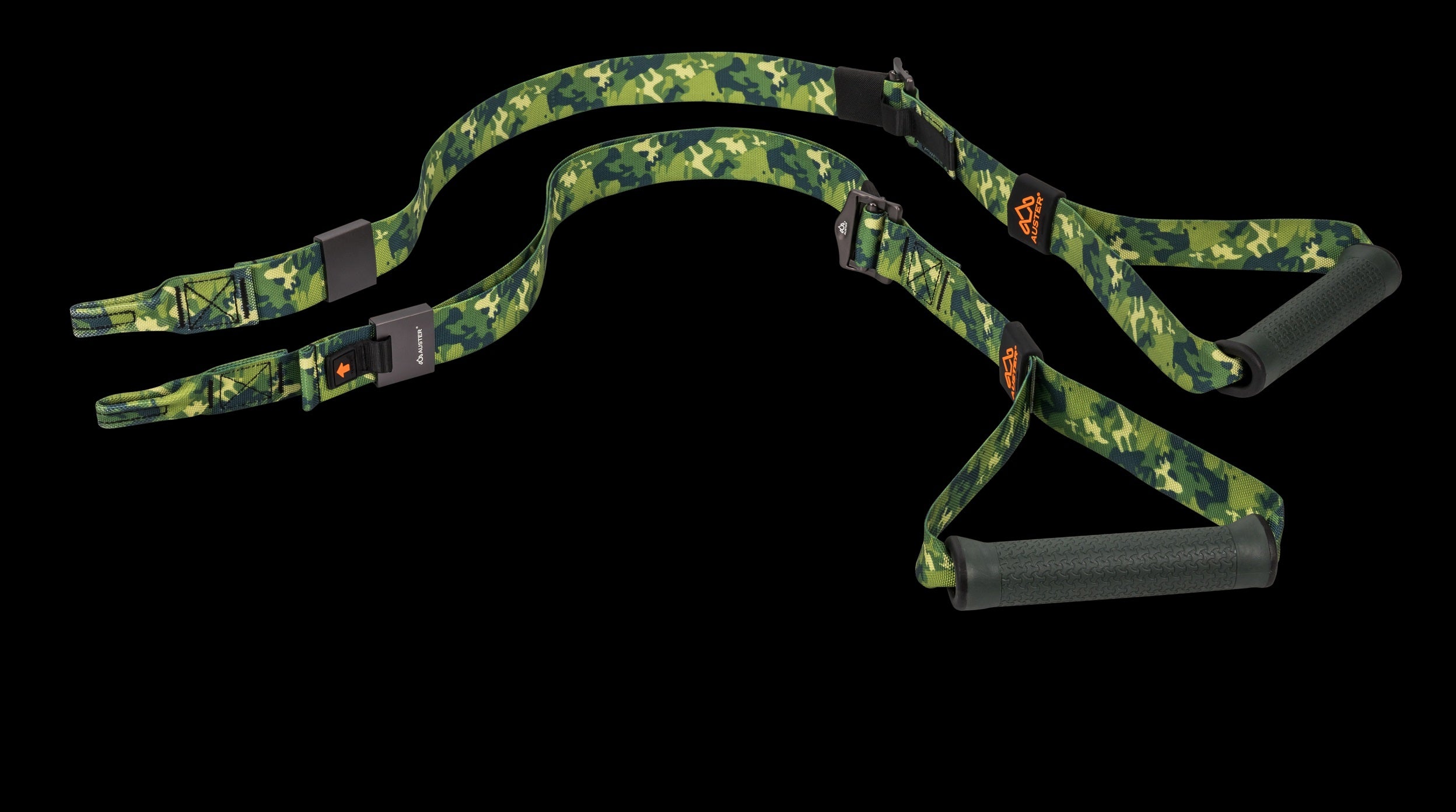 We've spent many years researching, developing, designing and re-designing the products in our collection. Our mission has always been to create the highest quality, premium training equipment on the market. We achieve this through extensive development, and using the highest quality materials, like our metal of choice: aerospace-grade aluminium. We use this high-grade aluminium for all our products, and we proudly produce the strongest Parallettes in the world.
Auster CEO Andrew Siu was the lead manufacturer and distributer of TRX for over 13 years. He left to setup Auster so he could design the 'Auster Modular System'. An design that centres around the patented Dual-Carabiner, allowing users to connect and combine multiple attachments. The Power Straps (for bodyweight training), the Dynamic Bands (for resistance band exercises) and the Power Rings (for gymnastic ring training).
The Power Straps
Our Power Straps are used for suspended bodyweight training. They allow users to hold their own bodyweight and perform exercises such as Chest Press and Rows. The feet can be placed in the foot straps and used for Core and Leg exercises like Pendulum Crunches and Bulgarian Split Squats.
Materials
The Power Straps use commercial-grade webbing, strong enough to tow a 4-tonne lorry. They are the strongest rated straps on the market, so rest assured they can take your bodyweight.
The buckle adjuster is made of aerospace-grade aluminium. Making it extremely strong, light and means it will never rust.
The handle is made of soft polymer rubber, making it extremely durable, but soft to hold. It also has the Auster logo combined throughout to create the grip.
Special Features
The foot strap is cleverly hidden within the handle to keep it out of the way when it is not needed. Simply slide the handle around to reveal the built-in strap. There's also a stitched slice of padding to make sure its comfy to use.
The aluminium keeper stops the straps becoming separated when adjusting. Making sure that the straps are never pulled off each other.
Power Straps safety
The Power Straps adjust independently. There is no sliding strap for micro adjustment and this is done for improved safety. There are many cases where un-equally loading the Power Straps is desired – like in Archer movements. Any exercise that places more emphasis on one side can cause injuries in straps with a sliding loop for micro-adjustment. There are also cases where it is desired to have one strap longer than the other, which is possible with Auster Power Straps.
Sets
The Power Straps are available in the Everyday, Tutor and Master sets.