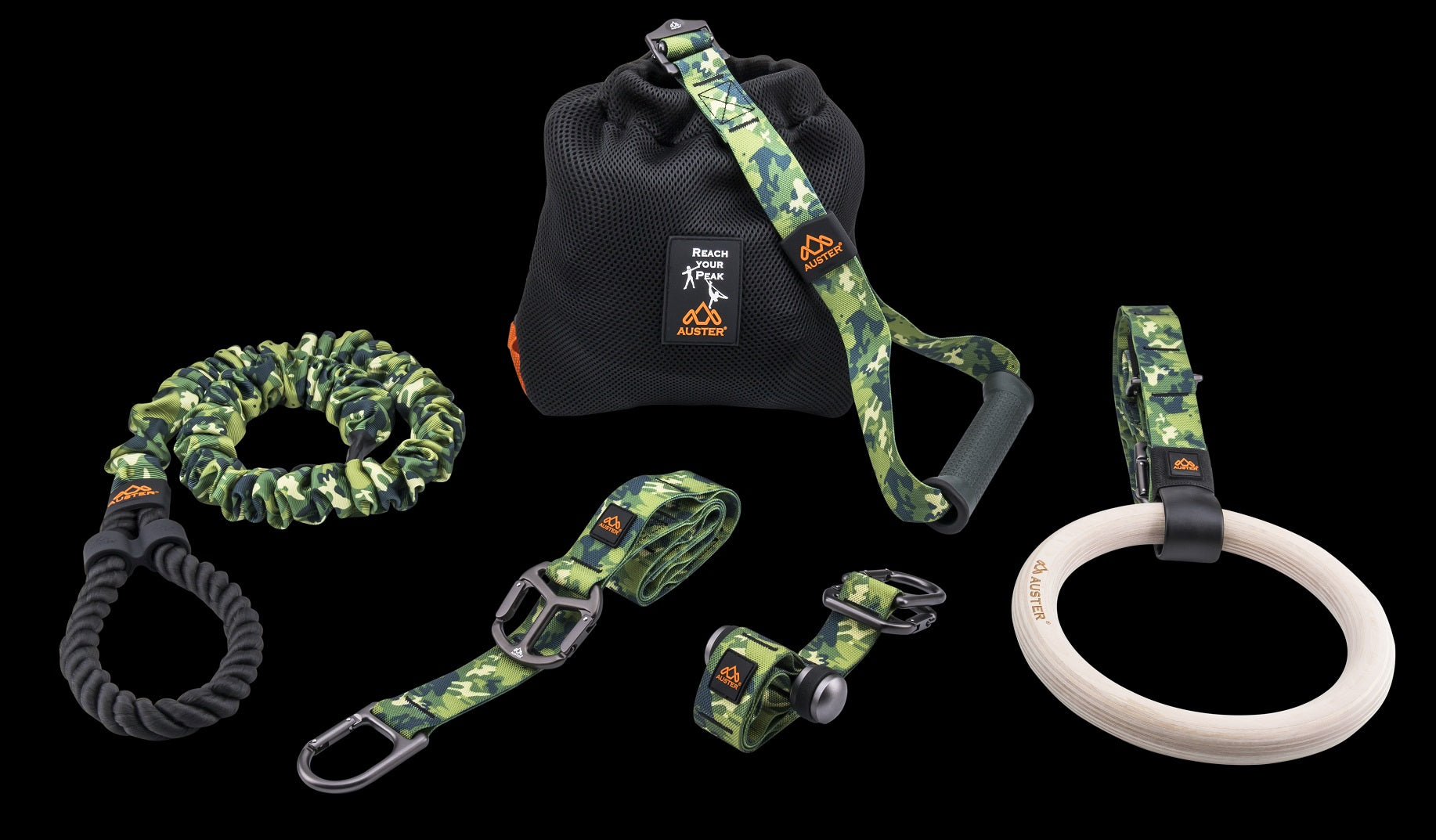 The Master is our ultimate bodyweight training set. It includes all the pieces of equipment which can be hung from our Anchors, clipping in easily to the patented Dual-Carabiner. Here is a detailed look into the Master set, and what it includes.
Main and Bone Anchors
Our Anchors are purpose designed, for outdoor and indoor use. The Bone anchor has been developed specially for indoor use, to be placed on one side of a secure door – click here for a deeper into the Auster Bone anchor.
The anchors are secured around a bar, post, bench and the attachments clip into it. All carabiners and metal work are aerospace grade aluminium, meaning they're extremely strong, light and do not rust.
Power Straps
Our Power Straps are the Suspension training straps element to the system and are the strongest rated straps on the market. They adjust individually for safety, utilising an aluminium adjuster located above the handle. The foot straps are cleverly hidden underneath the soft rubber handle, simply slide the handle around to reveal the foot loop.
Dynamic Bands
Our Dynamic Bands are special resistance bands. They come in Light – X-Heavy resistance and can be stretched to 3 metres, increasing in resistance as they extend. The Dynamic Bands are covered in a special, skin-friendly sheath – which also stops the bands being over-extended. Peace of mind for those using resistance bands, as often its very difficult to tell when they are about to snap. The Dynamic Bands also come with a rubber slider, located on the rope handle, which allows you to secure it to your wrist or ankle for exercise variety and safety. For a further look into the Dynamic Bands click here.
Power Rings
The Power Rings are our Olympic-grade gymnastic rings. They are the identical size and shape to those used in the Olympics, and ours are the only commercially available rings where the strap is secured to the ring; just like the Olympics.
Our Power Rings clip in and out of the Dual-Carabiner, so they can be hung from the anchors. Alternatively they can also clip to themselves, simply hang over a bar in the gym or park.
All of this kit comes in an Auster branded mesh backpack, to carry around everything in.
Colours available are: Black, Military Green, Vibrant Pink, Red and Camouflage.