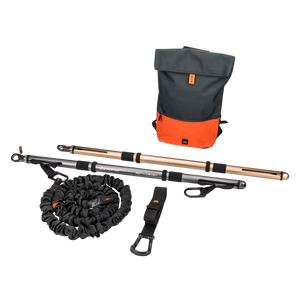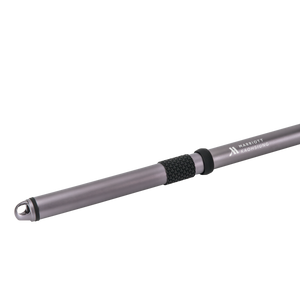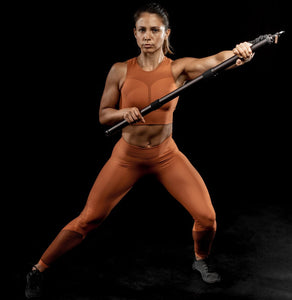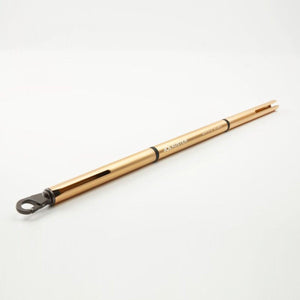 THE BATTLESTAFF
Tax included.
  WHAT'S IN THE BOX:   BATTLESTAFF: Comes in three pieces which are assembled through screwing the pieces together. Hook anchor to attach Battleband to one...
customers are viewing this product
WHAT'S IN THE BOX:
BATTLESTAFF: 

Comes in three pieces which are assembled through screwing the pieces together. Hook anchor to attach Battleband to one end for rotation training, and two slide in carabiners to attach Battleband to both ends for push/pull training.
BATTLEBAND: 

A 1.8m long dynamic band with 'heavy' resistance
BATTLE BACKPACK: 

Padded straps and made to measure compartments to easily transport your Battlestaff
Our premium quality Battlestaff allows you to combine static push/ pull resistance exercises with dynamic moves to build strength, power and cardio fitness, all in one workout.
The Battlestaff is made of aerospace-grade aluminium, making it extremely light and strong. The staff unscrews into 3 pieces and fits neatly inside the backpack.
The Battlestaff comes with two slide-in carabiners to attach the Battleband to both ends, or clip into the hook attachment for rotation exercises.
The battlestaff can be used as a standalone tool, or one end of the Battleband can be anchored to a high, medium or low anchor point to increase the repertoire of exercises on offer. The battlestaff also comes with a single carabiner anchor allowing you to anchor your battlestaff both indoors and out
Warranty policy
Consumer Warranty Auster Enterprises Limited Warranty for Auster Suspension Trainer System Intended Solely for Personal, Family, or Household Purposes WHAT DOES THIS LIMITED WARRANTY COVER? This limited warranty covers defects in manufacture and materials in your new and genuine Auster Suspension Training System products purchased through Auster or an authorised re-seller. This limited warranty applies to products intended solely for personal, family, or household purposes. WHO DOES THE LIMITED WARRANTY COVER & HOW LONG DOES THE COVERAGE LAST? This limited warranty covers the original purchaser only and lasts for one year ("Warranty Period"), beginning from the purchase date. WHAT WILL AUSTER DO? At its discretion, Auster will repair or replace any defective Auster Suspension Training system or its parts covered by this limited warranty, or refund the purchase price to the original purchaser. WHAT DOES THIS LIMITED WARRANTY NOT COVER? The terms of this limited warranty provide the exclusive and sole remedy available to you. This limited warranty is limited as follows: This limited warranty only applies to authentic Auster Suspension Training system exercise products. Consequential and incidental damages are not recoverable under this limited warranty. This limited warranty does not cover any problems which result from accident, neglect, modification, abuse or misuse of the product such as in ways described in the set up and use instructions (including, for example, over stretching of the dynamic bands, use of inadequate anchoring, any use as a rope, for example to tow), exposure to variations in ambient environmental conditions (including, for example, changes in heat, humidity, or moisture, including water saturation), impact damage, normal wear and tear, indentations, scratches or surface damage (including abrasions caused by failure to use, protect or maintain the product properly), product deterioration or variations in colour or marking that are ordinarily expected based on ordinary use or develop over time because of natural processes such as exposure to sunlight, and damage caused to products during shipping. The duration of ALL OTHER WARRANTIES, INCLUDING ANY WARRANTY OF MERCHANTABILITY, WARRANTY OF FITNESS FOR A PARTICULAR PURPOSE, OR ANY WARRANTIES ALLEGED TO ARISE FROM COURSE OF DEALING, COURSE OF PERFORMANCE, OR USAGE OF TRADE ARE RESTRICTED TO THE DURATION OF THIS LIMITED WARRANTY. HOW DO YOU GET SERVICE? To receive a copy of this limited warranty, or to request any warranty service, please register your purchase and product at within 30 days of purchasing it or provide us proof of your purchase. For a replacement, PROVIDE WRITTEN NOTICE OF YOUR CLAIM WITHIN THIRTY DAYS OF WHEN YOU DISCOVERED THE DEFECT to: Auster Customer Service,Auster Enterprises Ltd. Flat B-D, 8/F., Power Industrial Building, 9-15 Wo Heung Street, Fotan, N.T. Hong Kong. For questions regarding the warranty and instructions for product replacement, please e-mail service@auster.com.hk Once your product has been authenticated by a Customer Service Representative, you will be issued a return number and instructions for returning the product. Customers are responsible for the cost of shipping items to Auster. After the product is received, an Auster product expert will inspect it and contact you within 3 business days to give you the results of the inspection. If your product is not covered under this limited warranty, it will be sent back to you. Auster will pay the return shipping costs for all products that are covered under this limited warranty. Any products sent to Auster without a return number will be refused and returned to sender.